Start Every Day With A Fresh Point Of View!
The benefits that can be attributed to spending time in a hot tub or spa are substantial. When you look at those benefits in total, it's easy to see how spending even 20 minutes a day in a hot tub can help you feel renewed by improving your health and state of mind.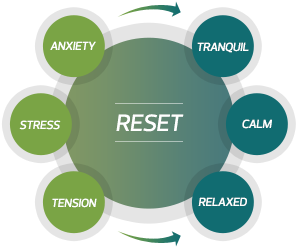 When you use a hot tub to focus on your personal well-being, you experience positive change and transformation every time you immerse yourself.
 
Stress is transformed into relaxation.


 

Tension is released from where it has accumulated in muscles.


 

Muscles recover from daily activities.


 

The fast pace of your day slows down.


 

Your mind clears and you are calmed.
Essentially, a hot tub functions as a personal reset button that helps you start fresh. And who couldn't use that?
Soaking in a hot tub does more for you than just help you relax. There is actual science behind the benefits of hot water immersion. Learn about how "hydrotherapy" supports a healthy lifestyle.
Similar to working out muscle groups in circuit training, our Hot Tub Circuit Therapy® helps you relax and transform areas that store pain, from the bottoms of your feet to the tightened muscles around your shoulders and neck.
Living healthier takes more than proper exercise, good nutrition, and a positive, healthy state of mind. It takes time and effort. Our blog offers insights, inspiration and practical ideas for renewing your body, mind and spirit.