Our mission is to help you enjoy the wellness benefits of regular spa use by making water care easy. With Caldera® you can reduce chemical use and decrease chlorine odor while keeping your hot tub sanitized, healthy and ready to use any time.
"The routine care is simple and quick to perform; cleaning is much easier than I imagined..."
more reviews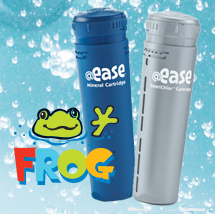 The FROG® @easeTM In-Line System with SmartChlor® Technology maintains crystal-clear water automatically. Pre-filled cartridges eliminate the guesswork and combine chlorine and minerals for carefree sanitization. The cartridges fit out of sight, in the spa's filtration system, and self-regulate to maintain more consistent chemical levels. Also available with bromine.
---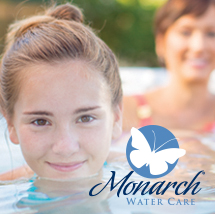 The Monarch® CD Ozone System mixes concentrated ozone bubbles into the spa water to neutralize contaminants. When used with the @ease SmartChlor cartridge, you'll get our most effective water care system. As an option for virtually chlorine-free water care, combine the CD Ozone System with Monarch Silver Cartridges.
---
Start with Clean Water
Make the most of your hot tub water care system with these chemical-free accessories to ensure you start with fresh, clean water.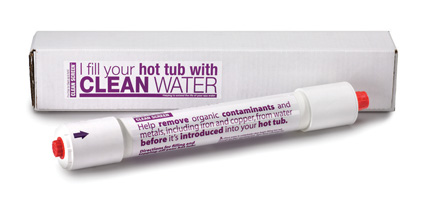 Clean Screen®
Attach this pre-filter to your garden hose to remove organic contaminants, tannins, copper, iron and other metals from the water as you fill your spa.
---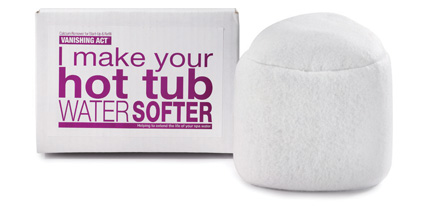 Vanishing ActTM
This calcium remover reduces buildup for softer-feeling water that's silkier on your skin. It helps protect your spa from the damaging effects of hard water.
---
Exclusive Monarch Water and Spa Care Products
When caring for your Caldera® spa, be sure to use only Caldera water care products - they're designed specifically for compatibility with your spa. With our Monarch line of high quality water care products, you can easily keep your spa water clean, clear and ready to enjoy. To view the full selection of products, please visit your local dealer.

Concentrated Chlorine Granules
These completely soluble and nearly pH neutral granules are a popular and efficient water sanitizer solution. Product is available in 14 oz., 1.75 lb. and 3 lb. bottles.
pH/Alkalinity Up, pH/Alkalinity Down
Up prevents pH bounce and deterioration of spa surface and fittings from low total alkalinity, while Down decreases spa water pH.
Calcium Hardness Increaser
Raises calcium levels in spa water to protect against "soft" water corrosion and staining.
Stain & Scale Defense
Prevents calcium build-up on spa surfaces and controls stain and scale formation.
Defoamer
Quickly eliminates foaming caused by soap, shampoo, cleaners and other residues.
Monarch 5-Way Test Strips
Use these test strips to check for levels of chlorine, bromine, pH, alkalinity and total hardness of your spa water.
Replacement Hot Tub Filters
Our specially designed, genuine Caldera replacement hot tub filters provide the best fit and performance for your spa.