How great would it be to fast-forward past all the technical considerations and be steps away from your relaxing hot tub soak? We want to help get you as close to that as possible, so you can start taking advantage of the far-reaching benefits of a home spa. Let's compare two value hot tub collections side by side—the Caldera Spas® Vacanza® series and the Master Spas® Clarity series—for the performance and design specifications and the quality of comfort you're looking for.
The Caldera Spas Vacanza Series
The Vacanza Series offers comfort, style, reliability, energy efficiency, and advanced features at a great value. Caldera Spas has designed Vacanza models for a superior Hot Tub Circuit Therapy® massage experience with carefully placed and powerful jets to target various muscle groups for tension, relief, and relaxation. The innovative water care system makes cleaning and maintenance easy, so you can enjoy crystal-clear water year-round.
The Master Spas® Clarity Series
The Clarity Series was designed to perfectly fit the body's contours, so the jets offer an ideal hydrotherapy experience for your whole body. Clarity models also offer the Master Force™ Bio-Magnetic Therapy System for additional relaxation and relief. An advanced filtration system makes cleaning your home spa easy, ensuring that it's always ready for your own renewal experience or for entertaining family and guests.
Shop Like a Pro for Your Home Hot Tub
First, take a step back and consider which hot tub qualities are the most important to you. Figuring out your priorities and your preferences in the areas of performance, design, and comfort is a great place to start, especially if you're a first-time hot tub owner. If you need assistance with this step, we have a handy guide to help you identify your priorities before purchasing a hot tub.
Performance. The best-performing system for your home spa is the one you don't have to think about: Your spa is kept warm and ready for you whenever you need it, and the controls and features are intuitive and efficient. The circulation, filtration, and heating systems support and enhance each other—all at a cost-effective and energy-efficient level.
Design. Hot tub design takes into account aesthetics for positive integration into your home, as well as ambient features for an all-around soothing spa experience. Spending a little extra time considering the colors and other design elements that work best with your home or your outdoor landscape can ensure a seamless fit for many years to come. The latest high-quality hot tub models have been designed with modern aesthetics in mind, so the lines, the textures, the colors, and the hidden, quiet mechanisms work with your style—not against it. Check out our Inspiration Gallery for plenty of design ideas.
Comfort. You'll return to your hot tub daily for its rejuvenating effects, and it will be a familiar home feature for a long time. Take the time to find a hot tub model that supports your relaxation best by visiting your local dealer for a test soak to experience a therapeutic jet massage, or even to sit in a dry tub and gauge how comfortable the seats and pillows feel. But remember, a dry sit is not always the best indicator of comfort due to the effects of buoyancy on the body when in water. Anchor points, such as The Foot Ridge® in Caldera spas keep you in place when the powerful jets are on, adding to the importance of a wet sit. Your dealer will also be able to show you how to customize the jet functions to your needs and preferences.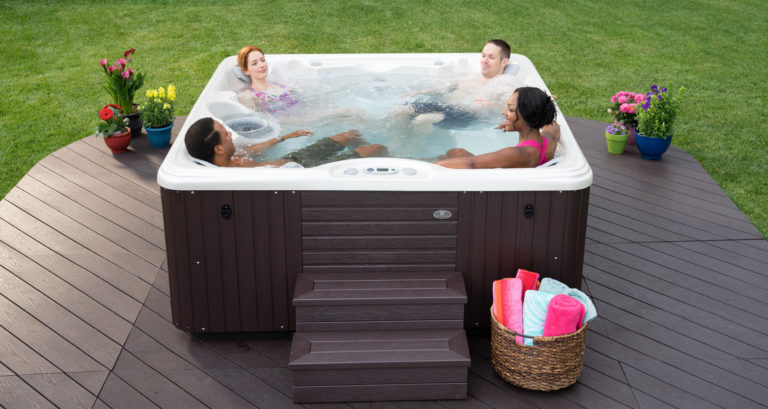 The Caldera Spas 2018 Vacanza Series vs. the Master Spas® 2018 Clarity Series
We're excited to compare the Caldera Spas Vacanza Series and the Master Spas® Clarity Series. The chart below compares all models within both the Vacanza Series and the Clarity Series in terms of size, seats, and jets. Of course, simple numbers—the number of seats, the number of jets—don't tell you anything about the quality of a hot tub, or whether a hot tub is right for you. What matters most when considering a hot tub purchase are your own specific needs. More does not necessarily equal better; a hot tub with fewer jets may be a much better fit for you than a hot tub with abundant jets, as long as those jets feature the power and level of performance you seek.
| | Size | Seats | Jets |
| --- | --- | --- | --- |
| Caldera Spas® Vacanza® Series | | | |
| Palatino® | 7'5" x 7'5" x 38.5" | 6 | 45 |
| Marino® | 7' x 7' x 36" | 6 | 35 |
| Vanto® | 7' x 7' x 36" | 7 | 35 |
| Tarino™ | 6'10" x 6'10" x 33" | 5 | 23 |
| Aventine® | 5'4" x 5'4" x 29" | 2 | 14 |
| Master Spas® Clarity Series | | | |
| Precision 7 | 7' x 7' x 36" | 6-7 | 38 |
| Precision 8 | 7'10" x 7'10" x 36" | 6-7 | 48 |
| Balance 7 | 7' x 7' x 36" | 5-6 | 38 |
| Balance 8 | 7'10" x 7'10" x 36" | 5-6 | 48 |

Comparing Caldera Spas 2018 Vacanza Series and Master Spas® 2018 Clarity Series
To provide you with a more in-depth look at their various features, we've lined up two 2018 hot tub models from the Vacanza and Clarity Series. Below, learn more about the Palatino® from Caldera and the Balance 8 from Master Spas®. Note that specifications listed are accurate at the time of publication and are subject to change. Before making a purchase, please check each brand's website, brochures, or owner's manual for the most current specifications.
| | Caldera Spas® Vacanza® Palatino® | Master Spas® Clarity Balance 8 |
| --- | --- | --- |
| Footprint | | |
| Seats | 6 | 5-6 |
| Dimensions | 7'5" x 7'5" x 38.5" | 7'10" x 7'10" x 36" |
| Maximum Jet Count | 45, including 35 Euro jets, six AdaptaFlo® jets, and four AdaptaSsage® jets. | 48, including Hydrotherapy jets. The StressRelief Neck and Shoulder Seat™ is equipped with powerful downward-trained jets to bring significant hydrotherapy relief to your neck and shoulders. |
| Water Capacity | 400 gallons | 465 gallons |
| Performance | | |
| Jet Pump | The Palatino features two ReliaFlo® Pumps: one dual-speed 2.5 HP (5.2 BHP) pump and one single-speed 2.5 HP (5.2 BHP) pump. | The Balance 8 features two powerful pumps. |
| Power Requirements | 230 volts / 50 amps | 240 volts / 50 amps |
| Ozone System | Optional for the Palatino model, the Monarch® CD Ozone System continuously sends concentrated ozone bubbles into the water to neutralize contaminants. | The Balance 8 comes with an ozone water purifier to support and enhance the filtration process naturally. |
| Water Care Options | The built-in FROG® @ease® In-Line SmartChlor® and Mineral Cartridge System makes maintenance easy, with pre-filled cartridges and a low, consistent chlorine level. | The Mast3rPur™ Water Management System uses ozone, UV-C light, and a mixture of copper and zinc to keep water clean. |
| Insulation | Caldera Spas® FiberCor® insulation is reliable year-round and easy to maintain and repair. | Master Spas® rely on full-foam insulation for efficient temperature control. |
| Entertainment System Options | Four integrated speakers, wireless audio with Bluetooth®, and a 22" HD wireless monitor. | Two interior speakers, a docking station, and Bluetooth® capability. |
| Filters | Genuine Watkins® Filters will last for two to three years. | Master Spas® features EcoPur® Charge Cartridge Filters to remove impurities from spa water. |
| Design | | |
| Cabinet Colors | Caldera Spas premium EcoTech™ cabinetry is available in Coastal Gray, Espresso, and Teak. | Choose from Graphite Grey, Midnight, and Espresso for your DuraMaster PremiumTM cabinet. |
| Shell Colors | For your hot tub shell color, select from Tuscan Sun, White Pearl, Desert, Midnight Canyon, and Sterling Marble. | Balance 8 shell color options include Sterling Silver, Midnight Canyon, and Tuscan Sun. |
| Control System | Palatino features an LCD control panel with an intuitive interface to personalize your hot tub experience. | The control panel is easy to operate and allows you to adjust jet performance, temperature, and other environmental features. |
| Water Features | The Acquarella® Waterfall shoots 20 arching streams of water into your tub for a soothing, sensual effect. | A waterfall feature tops off your Master Spas® experience by further stimulating your senses and relaxation. |
| Lighting Features | The Mystique® 10 Points-of-Light interior illumination system lets you customize your spa ambiance with dimming capabilities and six colors. | The Balance 8 offers multi-color LED lighting at the waterline, so you can set the mood. |
| Cover | Your Caldera hot tub comes with a tight-fitting, weatherproof, 2 lb.-density insulating cover to keep your spa warm, clean, and efficient between uses. | Master Spas® covers for the Clarity series have a 1 lb.-density, color options to suit your home, and an energy-efficient design. |
Narrowing Down Your Best Hot Tub Model
Even after much online researching, you won't know which hot tub is perfect for you until you've seen it in person and have tried it out. Luckily, dealers give you the opportunity to view and explore all your options. That's a key benefit to purchasing from an established dealer, and not a "fly by night" show. They can also help you consider your overall investment and find your best model for the price. If you're still undecided between the Caldera Spas Vacanza Series and the Master Spas® Clarity Series—or if there are other models or brands you'd like to consider and compare—now's a great time to visit a showroom. With all of this careful preparation, it's almost time to fast-forward to installation and the long-term enjoyment of your cozy home spa.
Find your nearest hot tub dealer to continue this discussion with a local expert, who can help you consider your personal hot tub needs. You can also read more about the Vacanza Series from Caldera Spas, download a brochure, or get local pricing.
Read Next