A well-laid plan is essential for making any dream come true. This is especially relevant when adding a portable hot tub versus an in-ground spa to your backyard design or remodel project. You will save thousands of dollars.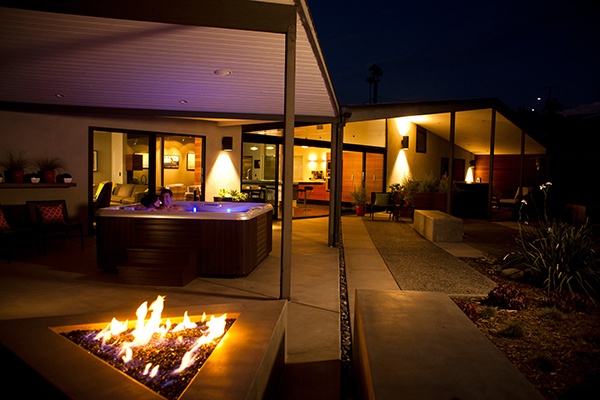 Your new backyard will be your oasis where you step away from the pressures of life. It's all for you and your family. What could be more important, and fun?! Now is your time!
The road to completing any home project takes unexpected turns. It is unavoidable. Have comfort in knowing that you are not alone in this endeavor. You work alongside professionals who assist you with each step of the project. It is also vital that you learn as much as you can and involve yourself in the process. We encourage you to be clear about what you want during the experience.
Think of yourself as the foreman who oversees a team of awesome people working together. You coach your team to rise to the occasion and perform a superior level of workmanship. Go team!
"Think of yourself as the foreman who oversees a team of awesome people working together."
Make sure to avoid mistakes by paying attention to these tips. Most importantly, they will help you complete a spa installation and start enjoying the benefits of your hot tub as soon as possible.
1.   Discuss your plans with a landscape architect
You know you want a portable hot tub. But you're not sure where to put it. Don't expect to have all the answers when it comes to designing your backyard. A landscape architect will develop a blueprint for your design. They will guide you through the process. You will make the ultimate decision on what you desire. Be open to their suggestions. They may surprise you in a very good way.
"Don't expect to have all the answers when it comes to designing your backyard."
2.   Ensure a proper support system
Any long-lasting structure resides on a good foundation. It is essential to place your hot tub on a stable base. For example, reinforced concrete serves this purpose. Check building codes with your contractor about the required depth for the slab. Any chosen materials must withstand the weight of your hot tub to be safe for you and your family. Download our spa planning checklist that will help you prepare for a successful installation.
3.   Avoid electrical overload
Your portable hot tub requires a supply of electricity to operate. This extra demand may tax your current electrical system. A certified, experienced electrician will determine if your current power supply is adequate. An upgraded electrical panel will ensure adequate power load compliance. Again, check electrical codes with your contractor about specific hot tub wiring requirements.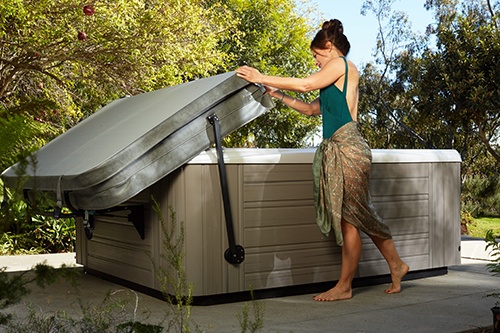 4.   Consider hot tub maintenance and durability
Your hot tub is exposed to various weather conditions. The surfaces on your hot tub are very durable. Proper conditioning of the cover, exterior and interior surfaces will extend its life. A hot tub cover lifter will help you maneuver the cover during use, cleaning, and maintenance. This allows you to open your hot tub with ease which is especially helpful if you have physical limitations. Nothing will hold you back from improving your health.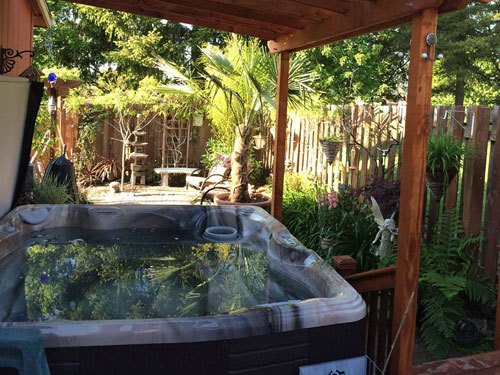 5.   Buying a hot tub
Do your research. Ask questions. Determine how much space you have within your design. Do you want a two-person hot tub, a 4 person hot tub or a luxury 7 person hot tub? The selection of jets for the interior of your hot tub is vast and plentiful. All our hot tubs are designed with Hot Tub Circuit Therapy. This provides a massage seat for each muscle group. Find a hot tub design that works for you. Energy efficient hot tubs provide a cost-effective option. Once your research is complete step up and make it happen.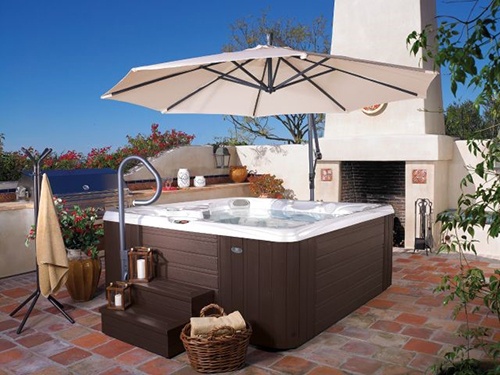 6.   Observe delivery and placement
Your portable hot tub is a large object. Your property may have a clear path to the hot tub's eventual destination. If it doesn't, a crane may lift and place your hot tub into your backyard. We recommend that you be present during this part of the process. In the event something doesn't go according to plan you can help troubleshoot the problem. An on-the-spot decision will help expedite a solution.
Your input is vital to the success of any backyard remodel project. Gather information on the design elements that will make your hot tub dreams come true. Form a team of reliable professionals to make it happen. Good luck! You can do it.
"Your input is vital to the success of any backyard remodel project."
If you're already an owner we would love to hear how you fit your portable hot tub into your landscaping plan.
We are passionate hot tub enthusiasts and appreciate your interest in learning. Read more about the benefits of hot tub use in our resource library by clicking here. We are your source for reliable spa shopping and hot tub enjoyment information. Download a brochure by simply clicking the "Download a Brochure" tab in the toolbar. At Caldera Spas we take pride in helping you find ways to "Come to Life." We know you're worth it.