Having a hot tub in your backyard could be a dream come true. You could step outside anytime to relax in the comfort of your own personal paradise. But how do you go from wanting a hot tub to owning one? The same way you manifest any vision into reality—you plan. While there are many factors to consider when choosing the perfect home spa model, including the power of its jets, the efficiency of its heater, and the upkeep required for its filtration system, the most important one is also the most basic: size. So grab your ruler and read on!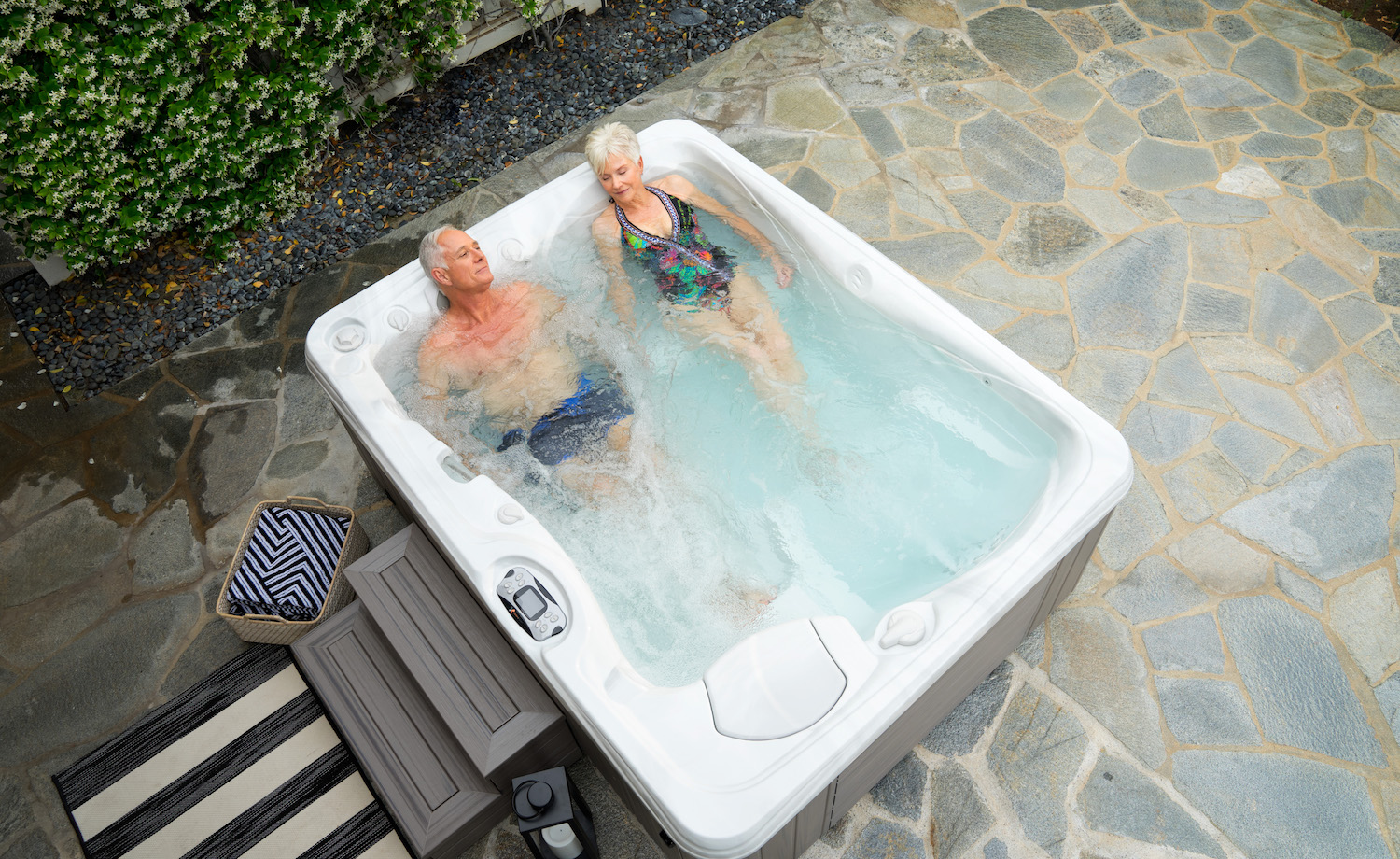 Choosing a Hot Tub Based on Size
Spa manufacturers offer hot tub collections that include various models with unique combinations of styles and features. Caldera® offers three series: Utopia® (luxury), Paradise® (premium), and Vacanza® (value-priced). While it's important to compare hot tub models in each series, size within a series will impact costs. For example, a large Vacanza spa will cost less than a small Utopia spa.
With this in mind, begin your search for a new hot tub by considering your budget and the number of people likely to enjoy the spa at once. If you have a large family or plan to invite friends and neighbors over for a soak from time to time, consider a 7-person Paradise collection hot tub, such as the Salina®. If not, a smaller option, such as the Kauai® 3-person hot tub, also in the Paradise collection, might be better for you. Remember also that people, like hot tubs, vary in size. So, the 6-person Makena® hot tub can feel more spacious depending on the people in it.
Typically, spa manufacturers offer three size categories from which to choose in each series:
Small Hot Tubs: 2-4 people
Medium Hot Tubs: 5-6 people
Large Hot Tubs: 7+ people.
Within those categories, there are length, width, and height options:
| Hot Tub Size Ranges | Length | Width | Height |
| --- | --- | --- | --- |
| Small (2-4 people) | 5'4" - 7" | 5'4" - 6'8" | 29" - 35" |
| Medium (5-6 people) | 6'6" - 7'9" | 6'4" - 7'9" | 33" - 38.5" |
| Large (7+people) | 7' - 9" | 7' - 9'2" | 36" - 38" |
Once you've decided on the perfect hot tub model, consider entertainment options for your spa and the accessories you desire. After that, it's time to think about spa location, delivery, and installation.
A necessary part of making your home spa dream a reality is choosing the best placement for your hot tub, how you're going to get it there, and how to properly install it.
Location. You'll need to choose a spot that's large enough for your hot tub and its foundation. You'll also want to make sure the space will accommodate your spa cover lifter (each cover lifter requires a small amount of additional clearance). The best way to know you've chosen the best spot is to ask your local dealer, who will be handling delivery.
Delivery. If there's plenty of access to your hot tub location, you won't have to worry about delivery issues. If the path from the street to your spa is restricted, however, you'll have to clear enough space. That could involve cutting back tree branches or removing sections of a fence or a gate. Alternatively, many dealers have cranes to lift your new hot tub into place when ground delivery isn't possible. So, before you schedule delivery, walk through the route, measure clearance around the path, and compare your measurements to the spa's dimensions.
Fortunately, your hot tub will be delivered 'dry,' so it can be turned on its side during transport. This makes horizontal clearance critical, so be sure to measure the height of your hot tub. The length and width of your spa matter a lot if the delivery path has sharp, tight corners or overhead obstacles, such as low-hanging branches or a lintel over a fence gate. To help make the delivery process go smoothly, each hot tub model comes with its own pre-delivery instructions, which include hot tub dimensions and preparation and installation information. For more details on installation, download our helpful ebook, 9 Tips to Help Make Your Spa Installation a Success.
Installation. The size of your hot tub will determine how you prepare for installation. All spas require a sturdy foundation. A large, heavy spa requires a concrete slab base that is at least 4" thick. For most Caldera spas, including the 8-person Cantabria®, a concrete slab is a must. If you plan to put that spa on a deck, make sure that it can support 125 lbs. per square foot. Level your site and prepare your foundation in advance of delivery, because most delivery crews will not do that for you and will not be able to install your hot tub until that is done.
Whether you're looking for a small or large home spa, or one somewhere in the middle, you have plenty of size options, features, and accessories from which to choose. After that, all you have to do is sit back and enjoy your new hot tub.
At Caldera®, we offer not only the highest quality hot tubs available on the market, but also the best service. That's why we work hard to make sure you have all the information you need before you buy a hot tub—and after. To learn more about our products, download our brochure and then get local pricing. If you're ready to see one of our hot tubs for yourself, visit your local dealer.
Read Next