Just 30 years ago, life was very different. We had to pay by the minute to make long distance phone calls, buy a whole CD even when we only wanted to hear one song on it, and rent movies from a brick and mortar video store. But smart technology has changed all that—and more. Today, even spas are far more advanced thanks to technology developments. And Watkins Wellness, the manufacturer of Caldera®, continues to set the smart hot tub bar to heights that other spa manufacturers only hope to meet.
Advances in Spa Materials and Jet Design Offer Luxury and Comfort
Advances in material sciences have vastly improved over the years to make home spas more durable and beautiful. Acrylic hot tub shells don't suffer the separating layers that plagued the fiberglass spa shells of the past, for example, and polymer cabinets offer the elegant look of wood, but don't share wood's propensity for decay.
Modern spa improvements also go much deeper than the surface to include comfort and hydrotherapy upgrades. Today's technologically advanced ergonomic seating and hydrotherapy jets on the Caldera Cantabria® hot tub, for example, include:
The UltraMassage® Lounge, Atlas® Neck Massage, EcstaSeat®, and LumbarSsage® Seat
Euphoria® Jets, Hip Jets, and Angled Calf Jets
Sole Soothers® and a Foot Ridge®
Caldera spa jet technology enhances the health benefits of warm water immersion, providing massages that both sweep whole areas of the body and target specific muscle groups with soothing pressure.
Smart Hot Tubs are Energy Efficient
Energy conservation is top of mind for many homeowners today, especially those with home hot tubs. New spa technology has allowed for more efficient use of energy through thoughtfully engineered features, such as:
Improved insulation. Innovations include dense insulation with no gaps to assure your hot tub retains heat. FiberCor® insulation, available only in Caldera spas, is four times denser than urethane foam and keeps your hot tub energy efficient.
EnergyPro® heaters and circulation pump. EnergyPro® technology combines smarter engineering and design to improve heater efficiency. The heater runs at a low wattage and 80 percent of the energy used to run the pump is transferred to heat the water.
CoolZone™ Hot Tub Cooling System. Clever use of heat exchange is used to heat spa water faster and even to cool it down with the CoolZone technology in Caldera spas. You can change spa water temperatures in just a few hours to suit your mood or the weather.
Smart Hot Tub Water Care Systems Keep Water Crystal Clear
The @ease® In-line (chlorine) system uses SmartChlor® Technology to self-regulate chlorine release. The system works with FROG® minerals to greatly reduce hot tub maintenance and keeps spa water crystal clear easily.

The SPA FROG In-line (bromine) system is a Fresh Mineral Water® system that delivers minerals and a low dose of bromine into spa water. Say goodbye to daily maintenance and chlorine odor.

The Monarch® Corona Discharge Ozone System works with the FROG In-line system to keep spa water clean and fresh longer. The system uses an electrode to generate a constant supply of ozone, which kills microbes and bonds to and breaks apart organic compounds, such as body oils, to make filtering them out easier. The Monarch system is a vast improvement over UV- based ozone generation.
High-Tech Hot Tubs Offer Delightful Entertainment Options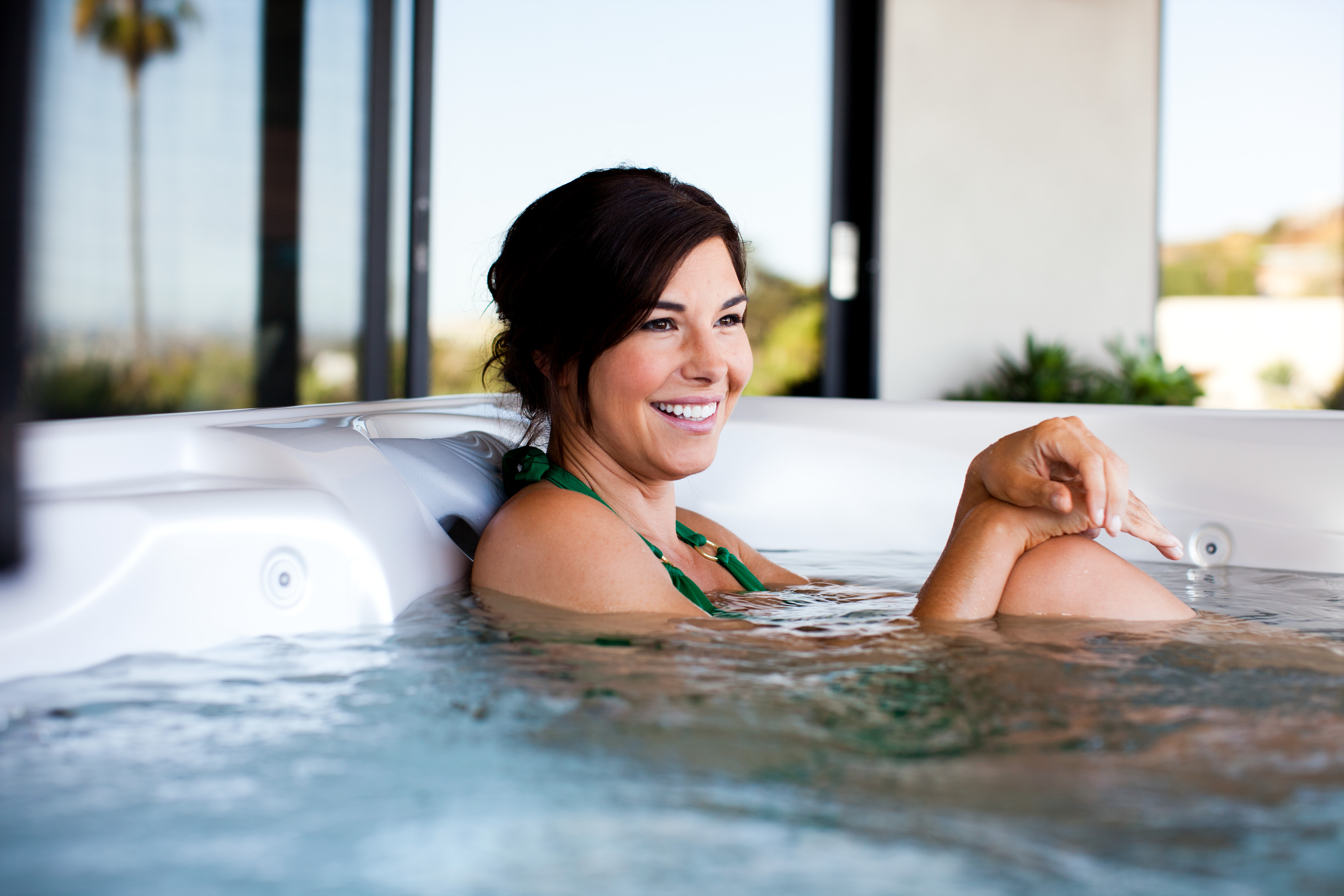 Today, you can't think of high tech spas without thinking of LED lighting, waterfall features, and media capabilities. Here, too, Caldera spas shines. The entertainment systems offered on Caldera spas turn your hot tub into a backyard centerpiece day and night.
You can opt to include speakers integrated directly into the spa shell and for Bluetooth® wireless technology to enjoy your favorite music, podcasts, TV and sports games, and movies as your hot tub's massaging jets soothe away stress.
The Best High-Tech Hot Tubs Offer Remote Control
Connectivity is to technology what water is to your spa: one would be useless without the other.  With the Connextion® remote monitoring system from Caldera, you can stay connected to your spa through your mobile devices. Check spa settings from the road, when on vacation, from anywhere—anytime. You and your dealer also receive alerts when your spa needs service or maintenance attention. Connextion allows you to:
Monitor your spa's systems, including your filters.

Access spa controls.

Lock and unlock your spa.

Access dealer information.
With control of your spa at your fingertips, you can ready your hot tub for an after-work soak while you're still at the office. You can even surprise your spouse after a night out with a relaxing soak complete with mood lighting and your favorite music playing as you walk in the door.
Smart technology has brought constant connectivity and convenience into our lives. While some technology can be a source of stress, smart hot tubs offer the complete opposite—stress reduction and relaxation.
Caldera spas are engineered with comfort and convenience in mind and built to provide lasting enjoyment. To learn more about our hot tub collections and models, download our brochure.  
Read Next