Few home additions are as versatile as a hot tub. A spa is a luxurious relaxation tool that can be placed anywhere on your property to provide you with all of the wellness benefits that come with a 20-minute soak—any time you want. But few hot tubs offer the same level of luxury as the Utopia® Series by Caldera®.
The models in the Utopia® Series—the Cantabria®, Geneva®, Niagara®, Tahitian® and Florence™ — range in size, seating, and jet configurations, making it easy for shoppers to find the perfect spa for their family and lifestyle.
Below are real backyard hot tub pics from Utopia spa owners who are delighted with their models. Use them for inspiration as you shop for your new luxury spa.
A Private Backyard Space Becomes a Cozy Retreat with a Utopia Cantabria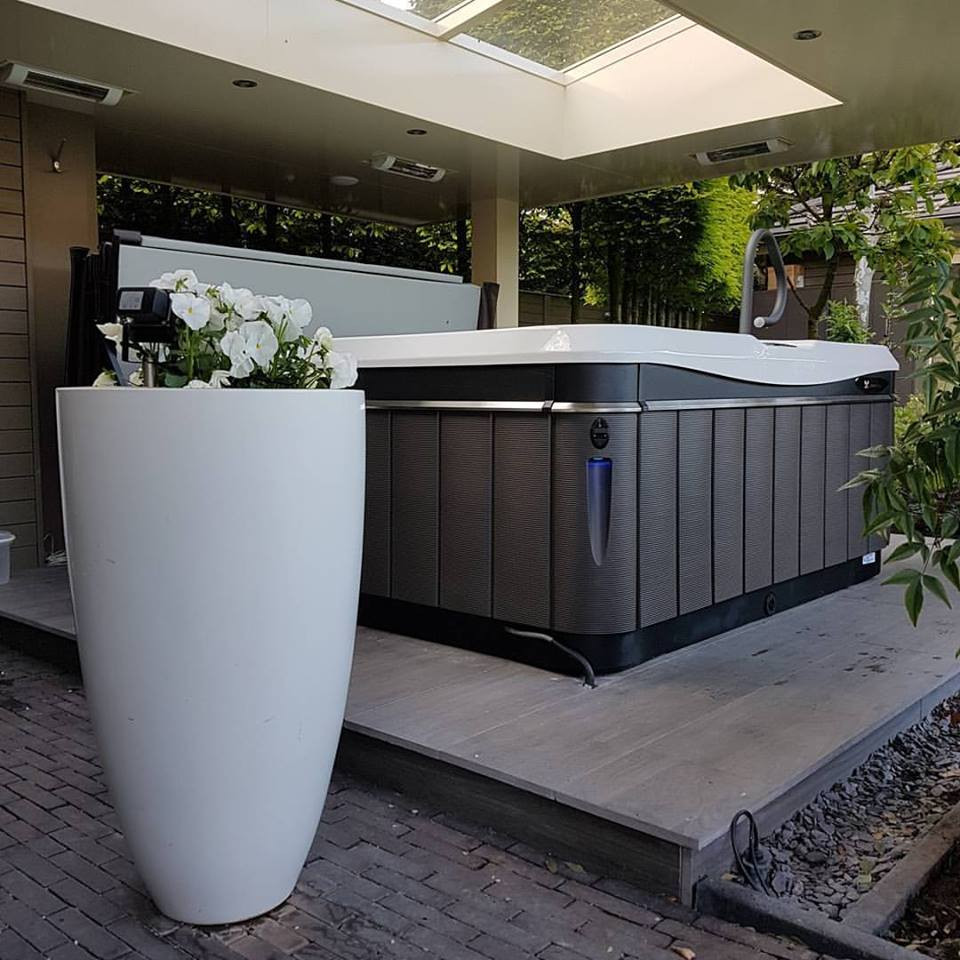 Sheltered beneath an overhang, this Cantabria spa is enjoyed in all types of weather. The trees provide natural privacy fences and dampen sound. A skylight above allows plenty of natural light to shine through.
The roomy Cantabria spa seats 8 adults and includes a lounger. Perfect for relaxing with family and friends, it offers an array of massaging jets that allow for daily hot tub circuit therapy.  
The Utopia Series Niagara Spa is a Perfect Centerpiece for a Suburban Bi-Level Deck
Enjoy Nature's Beauty from the Warm Water of a Utopia Series Geneva Spa
If a main appeal of your home is the view, your new spa can provide a comfortable vantage point from which to admire the majesty of nature or an urban skyline. The owner of this Utopia Series Geneva spa chose a Brownstone cabinet and a Platinum shell, which together blend beautifully with the forested backdrop.
The high-quality Geneva spa features all-climate Avante™ Cabinetry available in three different colors. Combined with any one of six shell color options, it will tastefully match any home and landscape.
Waterfront Vistas are Enhanced by the Utopia Series Tahitian Spa
The Utopia Series Tahitian spa is a great match for this waterfront property. Its owners can enjoy a swim in the lake during the day and retire to the hot tub for relaxing hydrotherapy in the cool temperatures of evening.  
The 6-seat Tahitian spa features SpaGlo® Multi-Zone lighting that sets the mood with 10 points of interior light and four corner exterior lights. It's perfect for a family or a group of friends visiting for a day at the lake.  
The Utopia Series Tahitian Spa Provides Year-Round Enjoyment
The Utopia Series from Caldera represents the ultimate in luxury spas and water immersion benefits. Offering the pinnacle of comfort, design, and performance, each model in the series adds the perfect finishing touch to the backyards of homes ranging from traditional to modern.
We believe in year-round spa enjoyment in the lap of luxury. Every home hot tub we manufacture is engineered with reliability, efficiency, and longevity in mind. Find the Utopia® Series model that's best for you and take a test soak at your local Caldera dealer.
Read Next